ASEC's Onboarding Process for New Hires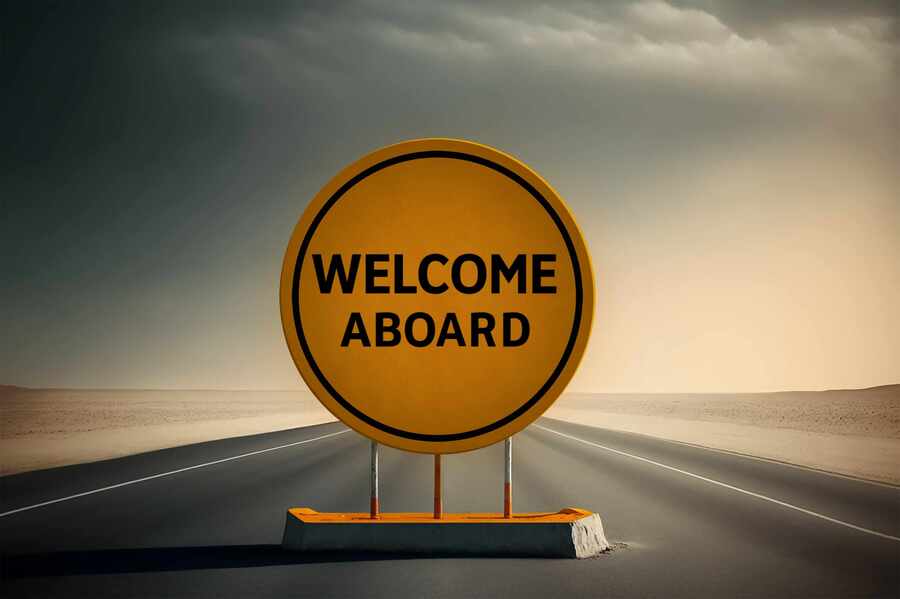 One of the more overlooked qualities of finding a new company to work for is their onboarding process.

For many prospective employees, the job hunt is about salary, growth opportunities, and location. While those are all important aspects, the onboarding process is truly the foundation for job and career success.
When it comes to being set up for success, a strong onboarding process allows employees to learn about their company, get up to speed on its internal processes and systems, and flourish from day one.
Less wasted time and more confidence helps employees feel more comfortable and better integrated – faster.
Setting up a great new hire onboarding is not always as simple as it sounds. To shed some light on the process, we're going to take a look at seven ways onboarding can lead to employee success, and then share the step-by-step process ASEC takes with all of its new hires.
Best Practices For Onboarding New Employees
The onboarding process can be unique to every organization and every company. However, great onboarding processes are all going to have a few key elements in common.
Let's take a look at the seven suggestions the Harvard Business Review has for best practices for onboarding new employees:
Understand their challenges – Recognize that onboarding can be a challenging transition for new hires.
Accelerate their learning – Provide relevant information and identify individuals who can impart important lessons.
Make them part of the team – Facilitate early introductions and encourage team members to support the new colleague's acclimation.
Connect them with key stakeholders – Introduce new hires to these stakeholders and explain the importance of their connections.
Give them direction – Communicate the organization's vision and help new hires understand their role in achieving it.
Help them get early wins – Encourage early wins to build confidence and credibility.
Coach them for success – Schedule regular check-ins to monitor progress and address any challenges.

Now, it's one thing to talk about onboarding new hires in theory.
How does it work in practice? Let's look at how we handle onboarding here at ASEC.
How ASEC Sets Up Their Employees For Success
To get a detailed understanding of ASEC's onboarding process, we had the chance to sit down and chat with Madison Bohrer, ASEC's Human Resources Coordinator.
We have broken down her interview and the onboarding process into the following three phases:
The period between being hired and the first day
The first day at ASEC
What new hires can expect during their first few months at ASEC
Before Your First Day
At ASEC, onboarding begins as soon as you receive your offer letter.
Who You'll Hear From First
"After a successful interview process, they'll receive an offer from our talent team, along with a benefit guide kind of giving them an idea of what we have as benefits – including our ESOP (Employee Stock Ownership Plan).
I then start my process by sending an email and welcoming them to ASEC. I introduce myself and get some of their personal information, while also sharing things like their start date, the department they're in, their title, and things of that nature.
In addition to that onboarding paperwork, they also receive an email from Paylocity, our HR & payroll system. I provide them with all their login information for that as well.
Once they finish all their onboarding paperwork for me on their end, they are officially hired. From there, we send their new hire care package and let them know we'll see them for orientation!
What To Expect From Your New Hire Swag Box
"So currently in our box each new hire is provided an ASEC coffee mug, a water bottle, a pen, a notebook, and a small portfolio. Men receive a polo shirt, and women have the choice between an ASEC polo shirt or women's cardigan. They also have a little card that welcomes them to ASEC, letting them know that we're happy to have them, and it also provides an email address to reach out to any of us."
The First Day With ASEC
Orientation
"I start orientation by introducing myself again and welcoming them to ASEC. If their supervisors are also located here, they will come in and say hello and welcome them to the company, too. Before and during the orientation our new hires are offered coffee, water, juice, and soda, too.
Typically after that first introduction one of our IT personnel — usually our help desk technician Amaya — comes in and she does the IT presentation about expectations involving IT acceptable use, helpful tips, and things of that nature.
Then I dive right in. I go over our core values, expectations and policies to familiarize our new hires with what it's like working at ASEC, what our culture is like, our core values really to home in on our culture as well as our motto and purpose.
Our motto is doing what's right for the warfighter and we take that to heart here, ASEC and we like to let our new hires know at the very beginning of the process that while they are working for us here ASEC, at the end of the day, it is to help our warfighters protect the nation. And so we ask that they keep that in mind while they work for us.
I also go over our benefits packages, we discuss medical and dental as well as vision, voluntary benefits such as life insurance, will preparation, and pet insurance. We do offer a TRICARE supplemental plan for those who are retired military personnel.
We also like to talk about our different locations and the way our organization is set up. We introduce who all the Board of Directors are and where they're located. We have an organizational chart that I pull up and I show them where they fall in the organizational chart of the company. That way if they were to have any questions or concerns, perhaps their supervisors not available, they know exactly what department they fall under and who they can contact next if needed."
The Office Tour
"After orientation, I take our new hires around the office and I give them a tour of the facility and introduce them to other staff members. That way they can start to form a relationship and have an understanding of where the different departments are that way they would need to have, you know, need help and they need to come in.
It's a nice opportunity because a lot of our new hires don't actually work in the corporate office. A lot of them do support our base. It's nice on their first day to give them that opportunity to interact and see faces that they might be interacting with regularly but not might not actually get to see in-person on a daily basis."
Lunch With The Board of Directors
"Once the tour is over, I bring them back up to the front where we first started our orientation process. From there they are picked up by our Board of Directors and their supervisors and they're taken out for a complimentary lunch, where they'll get to spend about an hour and a half getting to know their supervisor as well as our executive team that's located here in Maryland. They'll have the opportunity to kind of ask any other questions they may have about their job, too."
Meeting With Team
"For new hires after their lunch, it's really up to the supervisors. I think it's really more so dependent on where they're located, what's easiest for them. If they're located on base instead of with us in the office, they'll go to lunch with their supervisor after the orientation and then go meet with their team."
"Even if I've already given them a tour, a lot of supervisors like to take their employees around again and give them a tour that is more specific to what their job duties are. For instance, if you're in IT, I don't necessarily know the ends and outs of what you're doing every single day. Their supervisor will take them around, show them where the other equipment is located, and introduce them to the people that they might need to have a better relationship with."
How Our Remote Onboardings Are Handled
"Since we do have bases and employees around the country, I also handle the remote orientation. I often have sessions with remote hires that I do over Teams. I will go over the whole process with them the same I would if they were in person. The only difference is that they're seeing me through a computer screen.
From then on out for the remainder of their day, if they're remote, it's up to their supervisor. A lot of times they do go on to base and meet their supervisor and interact with them and meet new people. Otherwise, they're just asked to continue to work from home the remainder of the day. And then they go in the next day and meet their supervisor."
Continued Support
Onboarding doesn't just include the time before your first day and the orientation. There are still plenty of opportunities to help our new hires feel comfortable and integrated into the ASEC team.
Reminders and Check-ins
"After their first day, they'll receive a few reminders, including one that shares the benefits, and how to choose or waive the ones they're interested in.
I also send another email that has additional information on items to complete, including mandatory training. We do annual reviews of them as well, but as a new hire, you do have about three weeks to complete that training on your own.
Through it all, we let them know that if they have any questions or concerns, just please stop by, see one of us in HR, give us a call. We try to make it as easy of a transition as possible for them."
Monthly Events With ASEC
"We also have company meetings each month that we encourage all of our employees to join, whether it be in person or via team. So they do have those opportunities to kind of gather and get to know people every month and also introduce themselves to new hires that are newer than themselves."
Special Events
"We do have quite a few company events that are just scattered throughout the year for those local to our main offices. Our receptionist will send out an email saying, hey, this Friday we have an ice cream social. If you are in the area, if you are working remotely, if you are in the office, please stop by. Come join us for a little social get to know new employees. We do have quite a lot of events like that."
Find Out What Makes ASEC One Of The Best Defense Contractors To Work For
From the interview process through onboarding and your eventual career at ASEC, we endeavor to create a workplace that allows you to do your best work – and be a part of our mission to do what's right for the Warfighter.
To join the team at ASEC and see what makes us one of the best defense contractors to work for, head to our Careers page to browse our job openings.