Interview With Evan Alvey, Operations Analyst & Program Security Coordinator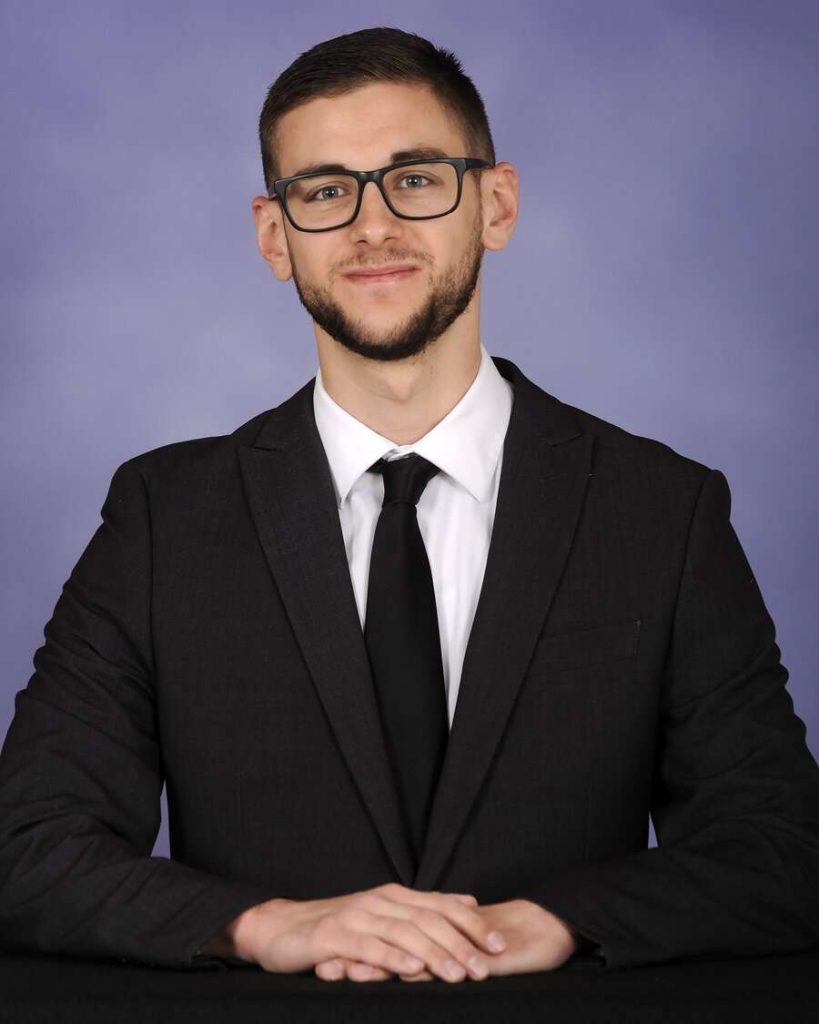 We are back with another employee spotlight showcasing the team here at ASEC.
Today we're speaking with Evan Alvey, Operations Analyst & Program Security Coordinator. Evan supports NAVAIR program office PMA-242. 
ASEC has corporate offices in Lexington Park, MD and Jacksonville, FL, and a number of remote work sites to include California, Nevada, and Washington state; these remote sites are typically government facilities or military bases where our employees provide direct support to our government customer. Evan supports our Navy customer at NAS Patuxent River, MD and was excited to share his unique perspective on how ASEC fosters a supportive work environment even with its remote staff.
Our chat with Evan also touches on the ways in which ASEC can impact both your early career growth and long-term opportunities. But enough from us – let's jump into the conversation!
What is your role at ASEC?
I'm an Operations Analyst & Program Security Coordinator. You can ask anybody that I work with here in the program office, or my manager over at the ASEC home office, my job consists of a little of everything. I don't necessarily think I have a defined set of roles, it's where I consider I can help the most.
The Program Security Coordinator is more about being the point of contact for all things security-related, like physical security, operational security, information security, communications security, those kinds of things.
Operations is like what it sounds. We need to help make this program office operate and support whatever the government and the Navy needs us to do. That could mean helping with acquisition documentation and routing. It's about making sure people have what they need to do their job.
Was this a job you had sought out? A job you had learned about in another way?
It wasn't necessarily a job I was looking for, but I'm glad I found it.
I joined ASEC in March of 2021 – I was hired as an Administrative Assistant. I was doing front office work, filling in for the Executive Assistant while she was out, and learning from her as well. We partnered to help with scheduling, making travel arrangements for the Program Managers, and other administrative duties to help the team perform.
Through my success, I was promoted relatively quickly to the Deputy Operations Lead position, and then to an Operations Analyst & Security function, which is where I am now.
What is your educational background?
I have an Associate's Degree in Social Sciences and I'm on track to finish my Bachelor's in Human Resource Management and Information Systems Management in December of this year.
What other background did you have before applying to this job at ASEC?
I have had a couple of jobs around the same scale. I've done administrative work and I've worked at the IT help desk for NAVAIR.
With the educational background and your current job, what are your aspirations, and how do you see ASEC playing a role in that growth?
When I initially started my journey to human resource management, I really did enjoy HR topics. Through this job at ASEC, and the company itself, I've been drifting further away from wanting to do HR and really just want to stay with ASEC. Everyone here treats me great. I'm hoping to grow within the company and see where that takes me.
What is it about the team and the environment about ASEC that resonates with you?
It sounds cliche to say, but it is like a family. There seems to be no hierarchical structure. My boss is on the Executive Team, but he doesn't act like it. Neither do the other members. They want you to feel welcome. They're always taking time to talk with you; they have no problem sitting down with you to chat about work or about life.
They also really believe in their people. If they hire you, they believe you're going to do something. They will give you every resource to make your job successful.I think that's part of my success and the promotions I've had. It's just the great belief of the ASEC team.
For someone in a similar point in their career, why would you recommend coming to work for ASEC?
ASEC doesn't treat you like you're not as advanced in your career as everyone else is. I got hired for an entry-level position, but they gave me as many opportunities to succeed as they do with their people that've been here for 10-20 years. There are many ASEC employees that have been here since the company started.
ASEC wants you to advance, they don't want to give you up. They want to build you up to be the best person you can be, and also the best way they can help the Warfighter all at the same time.
Where are you based right now? How does that affect the relationship with ASEC?
I work on the Pax River Naval Air Station supporting one of ASEC's program management contracts. In my office, I have a government employee supervisor and my ASEC supervisor. Typically, direction comes from the ASEC supervisor to my government supervisor. They work together and make sure I know what's going on and what I need to get done.
I have a great working relationship with all of the ASEC employees here in this office. There are about 10 of us. I also have a good working relationship with my ASEC manager who is in the corporate office.
How would you describe the work environment at ASEC?
They do promote a great work-life balance. In the Patuxent River area where I'm based, we have two large company gatherings a year: one in June and one in December.
We also have monthly company meetings which gives everyone a chance to get together and hear how the company is doing, welcome new employees, and they feed us lunch! These are good examples of ways ASEC shows appreciation for their employees.
What motivates you about the kind of work ASEC is involved with?
Knowing that my work has a purpose. I work directly with some naval officers here that are very engaged with the fleet. It's very motivating to see the weapons that I help other teams work on, and to see them succeed and see what they're able to provide to the fleet.
It's not just showing up for your work with no purpose then going home. There's a sense of gratification and appreciation for your work.
Is that something you had anticipated when you first started?
It's definitely something that grew as I grew with the program. I wanted a better job at the time, and luckily, I picked a great company to apply for and was lucky enough to get hired. The feeling grew with the government and naval employees that I've worked with here as they bring me in and teach me as much as they know.
What kind of professional challenges are you working on today?
Most of what I'm working on now is digital transformation and getting people to use digital tools. I work with a SharePoint developer who is a wizard with making apps and automation and flows and all these kinds of things. He provides tools to make duplicative tasking less complicated.
My main focus is helping the organization become more technically advanced and to increase efficiency. There's a big focus on doing things faster, doing things cheaper, and doing things better. I'm hoping to help people accomplish those goals.
Now that you've been with ASEC for a few years, how do you see them supporting their employees?
Based on the experiences I've had, every issue or problem has been solved very quickly no matter what it is. ASEC provides a great team over at the corporate offices, no matter what the sector is, finance, operations, HR, program management, you name it.
While they're looking to develop their people, they are also looking to keep the people they develop. They want the best for all their employees and for all their contracts to go well. I think if anybody comes to work at ASEC, they will be overwhelmed with the amount of helpful resources they have and the amount of growth that they want you to achieve over your tenure.
Find Your Next Role With ASEC
Thanks very much to Evan for spending his morning chatting with us about his time so far with ASEC. We're looking forward to seeing what you accomplish next!
If you're looking for your next career opportunity, please check out our current job opportunities here.